Cobb County CSB's The Rising Sun (June 2021 Newsletter)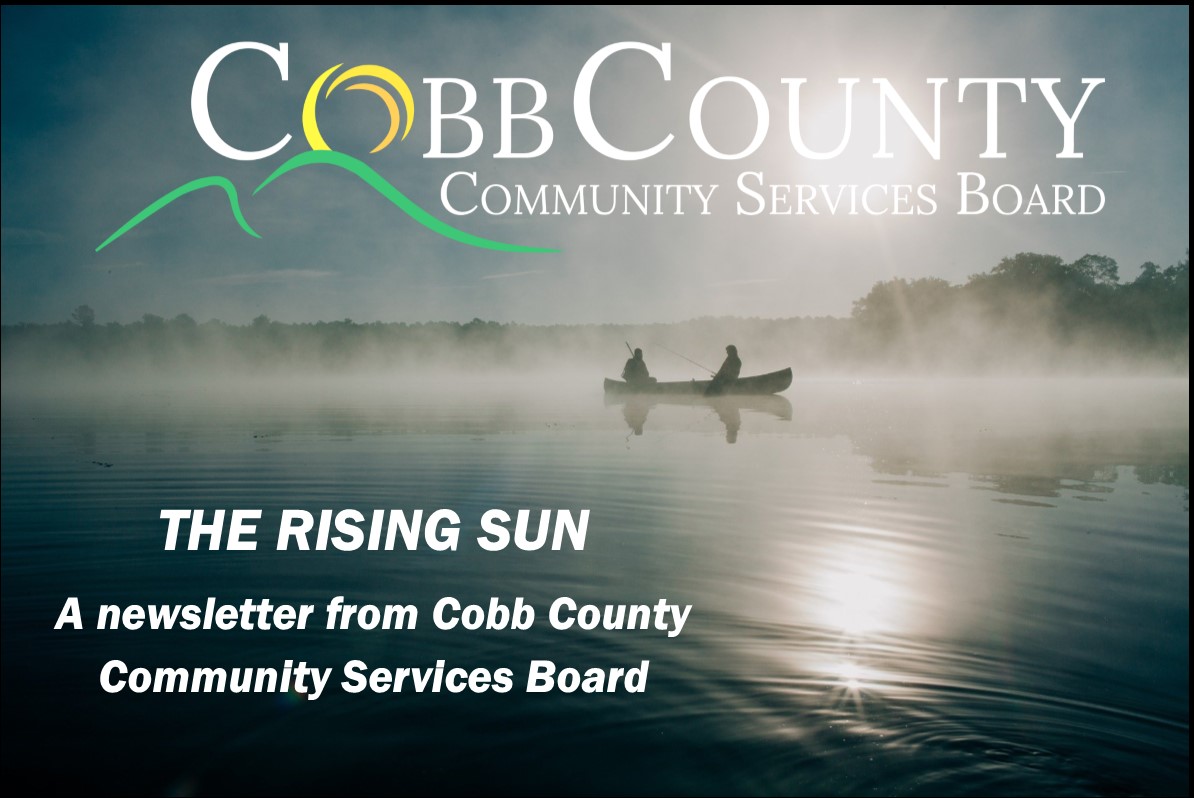 Rising to offer hope, empowerment and purpose
Vol. 2, Issue 6 - JUNE 2021
Cobb County Community Services Board is a provider of mental health, substance use, and intellectual/developmental disabilities services
---

COBB COUNTY PATH TEAM HELPS LOCAL MAN WITH PTSD
The newly named Cobb PATH (Partnership for Assistance, Treatment & Health) team made a positive impact in the life of a Cobb resident who suffers with Post-Traumatic Stress Disorder (PTSD).
Officer Bill Hurtado of Cobb Police Department's Crisis Intervention Team (C.I.T.) and Community Crisis Clinician Matt Dames of the Cobb County Community Services Board (CCCSB) are part of a multi-disciplinary team consisting of a police officer, an emergency medical technician, and a behavioral healthcare provider who respond to active crises as well as situations where a behavioral health professional may be needed. The two, who also work with Cobb County Fire & Emergency Services Lt. Wesley Garrett, recently responded to a resident who was known in his community to be suffering from PTSD and who frequently calls 911 with non-emergent concerns. Family members had been contacted and confirmed the man was suffering from PTSD. Officer Hurtado also learned the man had a misdemeanor warrant.
When Officer Hurtado and Matt Dames went to visit the resident, they did so not with the intent to arrest him on the outstanding misdemeanor warrant but rather to talk to him and offer options. "I explained to him that we were there not to cause trouble but to help him," said Officer Hurtado. The man came out of his home and talked to the duo about his PTSD. "We gave him options to choose, within the legal framework of someone who has a misdemeanor warrant."
Having the two men speak to him about his options made all the difference. "He was crying in relief," said Officer Hurtado. "By giving him options, it made him feel like we were not forcing a treatment solution on him." It also empowered him to make his own choice and helped him to trust the men who were there to help him. "I was not there to arrest him and to cause any harm: I was there to help him." Armed with the ability to make his own choice, the man sought treatment and professional help, and he was given the ability to turn himself in after that treatment, which will help him get an even better outcome in the justice system.
PTSD can occur after a person experiences any of a number of traumatic incidents (military combat, rape, sexual assault, child abuse, bombings, accidents, natural disasters), and according to the National Center for PTSD it affects approximately 8 million adults in the U.S. annually. As we recognize June as Post-Traumatic Stress Disorder Awareness Month, it is important to remember that PTSD can happen to anyone. It is not a sign of weakness. A number of factors can increase the chance that someone will develop PTSD, many of which are not under that person's control. About seven or eight out of every 100 people (or 7-8% of the population) will have PTSD at some point in their lives.
The goal of the Cobb PATH team is to provide the appropriate level of service and care to those experiencing problems like PTSD, mental health crises, depression, poverty, homelessness, and/or substance abuse with the stated goal of avoiding unnecessary jail time and/or emergency room visits. At the moment, there is only one Cobb PATH team, but there are plans and commitments to expand the program.
As for the individual in this case: "We gave him information about Cobb County Community Services Board," said Matt Dames. "He will get an evaluation, and from there, mental health professionals can put him on a path to management and recovery. He also knows that we will be following up on him and that we are in his corner."
---
AN OPEN LETTER ABOUT MEN'S MENTAL HEALTH
By Melanie Dallas, LPC

Hello Gentlemen:

So it's June, Men's Health Month, and I thought it might be a good time to check-in and see how you're doing. I'll admit I've been concerned; 2020 was a heck of a year (to put it mildly) and we all faced challenges we'd never faced before. I saw many of you struggle, sometimes with fear, often with wanting to protect your children from a virus that seemed to be everywhere, all while worrying about losing your job, your income, and your ability to provide for their family.

Unfortunately for many of you, that's what happened. Some of you lost more than that – a parent or wife or other loved one. Perhaps you felt there were no words to express your loss. Maybe there still aren't. And, really, that's what concerns me most.

As a man you've probably been taught that talking about pain or heartache or sadness, even after a devastating loss, makes you weak – and no man wants to be seen as weak. I know the stereotypes – it's okay for women to be emotional, to talk about our feelings. We are nurturers. We give hugs. We cry. As for me, yes, guilty on all counts!

But you? Be strong and silent. Men don't cry. They deal with their pain and move on. If only ignoring it made it go away! But it doesn't – and too often pain rears its head as anger, maybe at your wife or kids; it shows up as an inability to stay focused at work. It can show up as insomnia, or the need for one more drink. And one more after that.

I found some interesting stats about men and mental health. The National Institute of Mental Health says just over 15% of adult American men were diagnosed with a mental illness in 2017. You don't like those words, "mental illness"? That's fine – but that's what we're talking about when we talk about depression, anxiety or PTSD.

You say, ok, 15% is a pretty small number, so the odds are in my favor. Perhaps. But keep in mind, those are men who sought help. Millions more didn't, and likely for the reasons I talked about above. That was also before the pandemic.

The American Psychological Association reports 9% of men have feelings of anxiety or depression daily; the National Alliance for Mental Illness (NAMI) says one in four spoke to a mental health professional about it. One in four?! C'mon guys. NAMI also found 30.6% of men reported experiencing depression sometime in their lives. Men also account for 3.5 times the number of suicides as women. Yeah, not good.

The thing is, if you're struggling, it's not just affecting you. It affects your family, your coworkers, your friends. Fortunately, most of those people also care about you and want to see you be your best. You want to show them how courageous you really are? Tell them you're struggling and need help. See whether they treat you with contempt – or compassion. I'll wager on compassion. It's the same you would do if your coworker, father, son, brother or best friend told you he was depressed, isn't it?

And then do what may be even more courageous – find a therapist. You can call Cobb County Community Services Board, or ask your doctor for a recommendation, or use your employer's employee assistance program. Or just look on the internet. And then go.

Anyway gentlemen, I hope you find this helpful. And if you're struggling, I hope you find the help you need. I know talking about your feelings might be awkward at first, but you'll figure it out. The best part is, you'll start feeling better and see how therapy is helping you – and others. Because just as struggling with mental health affects those around you, getting better will too. And no one wants you get well more than the people who love you.

Wishing you all the best,
Melanie
Melanie Dallas is a licensed professional counselor and Interim CEO of Cobb County Community Services Board and CEO of Highland Rivers Health. Both community service boards provide treatment and recovery services for individuals with mental illness, substance use disorders, and intellectual and developmental disabilities.
---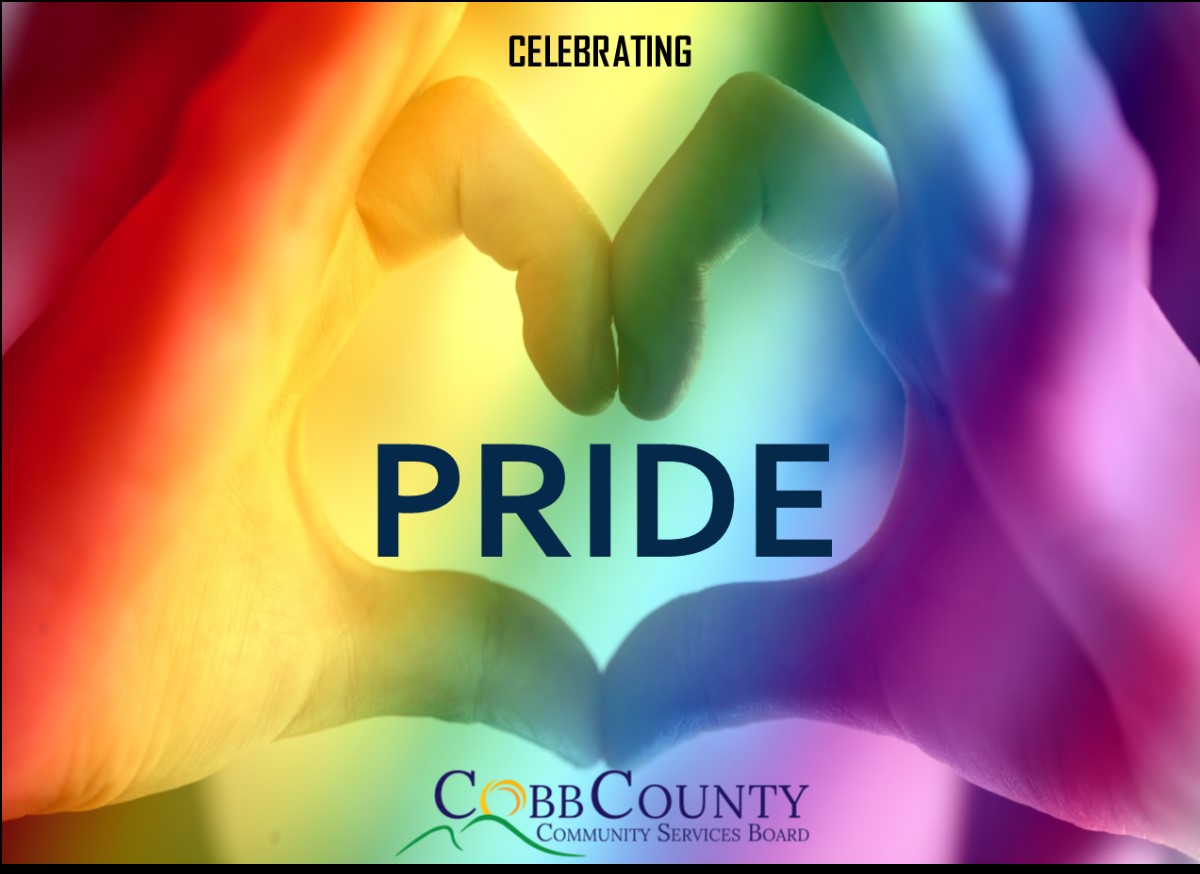 RECOGNIZING PRIDE MONTH
At Cobb County Community Services Board, we celebrate June as National Pride Month and recognize that the relationship between an individual's experience of sexual orientation and gender identity relates to mental health.
According to the National Alliance on Mental Health (NAMI), there is strong evidence from recent research that members of the LGBTQI (Lesbian, Gay, Bisexual, Transgender, Queer, Questioning, Intersexed) community are at a higher risk for experiencing mental health conditions — especially depression and anxiety disorders.
Many in the LGBTQI community face discrimination, prejudice, denial of civil and human rights, harassment and family rejection, which can lead to new or worsened symptoms, particularly for those with intersecting racial or socioeconomic identities.
If you or someone you love needs help with mental health challenges, we are here for you. Cobb County Community Services Board serves individuals who are uninsured. Visit www.cobbcsb.com for more information.
---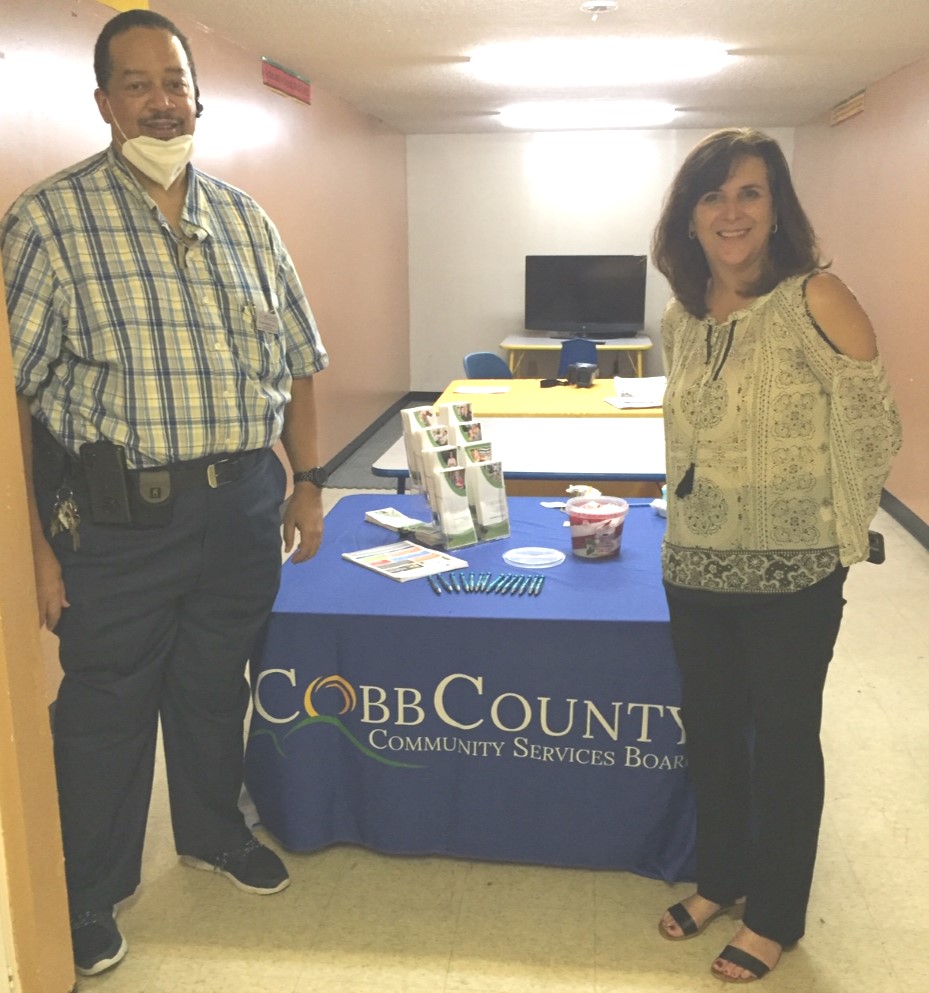 SHARING RESOURCES IN SOUTH COBB
The CCCSB team was busy again sharing information about our agency with individuals at the Kingsley Village Apartment Clubhouse. Pictured L-r: Keith Parker, Program Manager, Bright Changes Clubhouse and
Melissa O'Brien Communications & Public Relations Specialist

We Thrive In Riverside hosted the "Welcome To Summer Expo" at the Kingsley Village Apartment Clubhouse. Residents and visitors received fresh USDA food boxes containing fruit, vegetables, dairy, meat and bread supplied by Revive ATL as well as dry/canned groceries and swim toys provided by Peaces Of Kindness.
The South Cobb Lions Club conducted eye screenings and Cobb County Community Services Board provided resource material related to the behavioral health services the agency provides. Kaiser Permanente presented the Seniors Advantage Program while Spy Academy provided educational games and puzzles. Rising Oaks Mission, Speed Performance, Landing Lives and the Thrive Resource Center shared summer activity opportunities emphasizing the Summer theme "Stay Healthy & Thrive." Afterwards, everyone celebrated with a cookout with Girl Scout Cookies and an ice cream truck for dessert.
---
HEROES WORK HERE!
We are just telling everyone what we already know: heroes work at our Behavioral Health Crisis Center, located at 1758 County Services Parkway, Marietta.
Our team at the BHCC assist those in our community who are experiencing a mental health or substance use crisis. Open 24 hours a day, seven days a week, our BHCC team is always available to assist those in need.
They are true heroes, and we appreciate them!
---
We're looking for outstanding team players who want to make a difference in our community. Positions include nurses, behavioral health technicians, direct care professionals and more. Please visit our CAREERS link  to see if one of these jobs might be a great fit for you or share with others who may be looking to make a difference!
---
INSIDE THE AGENCY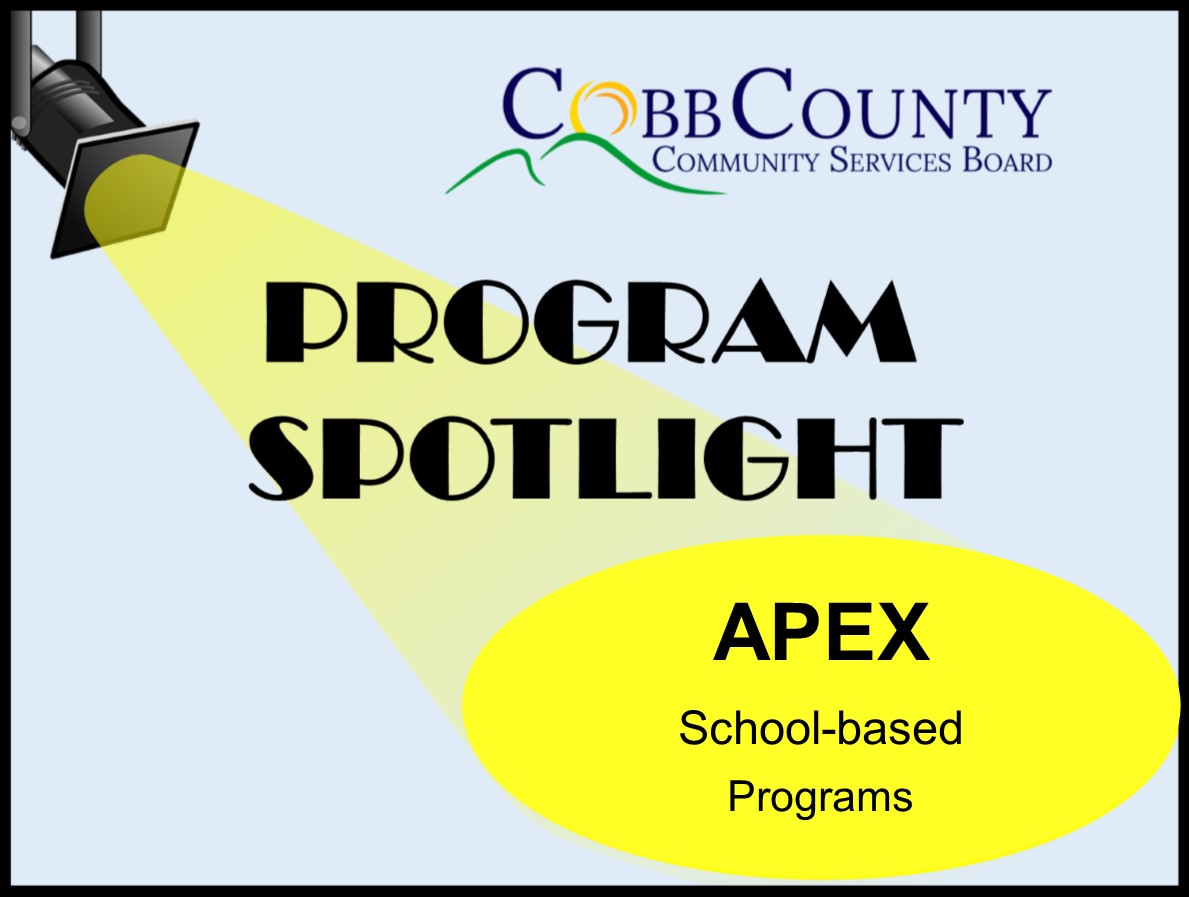 APEX SCHOOL-BASED PROGRAMS
We like to highlight our programs and services so that those in our community know about the important work we do. This month, let's learn more about our APEX Child & Adolescent program.
The APEX program, a partnership with local schools, provides school-based mental health services to students in grades K-12. Our APEX staff members work closely with school staff to identify the needs of students and link them with appropriate services. The services are provided within the school setting and via telehealth–including assessment, diagnostic evaluation, individual, family and group therapy and case management/community support. We offer services in both Marietta City Schools and the Cobb County School District.

This school collaboration provides families with streamlined access to mental health services and serves to help improve academics, behavior, virtual school attendance and ultimately graduation rates. To access services, individuals can visit the referral page on our website, look for behavioral health, and then child/adolescent services or call 770-429-5000 during normal business hours. To learn more about how APEX has impacted the state of Georgia, click here.
Our APEX team includes Helen Hogin, Teri Ayewoh, Christie Asuzu, Raymond Harrison, and Janet Hendley-Granville.
---
CCCSB TO PARTICIPATE IN PARADE
On Saturday, July 3, 2021, Cobb County Community Services Board is PROUD to be a part of the City of Marietta "Let Freedom Ring" Parade! The parade honors our community's first responders.
We will participate with a float and a group of marching staff with T-shirts that share our tagline: Hope. Empowerment. Purpose.
Thomas White, our Help Desk Specialist and Princess Odom, our Clinical Program Manager at Mothers Making a Change will represent us as king and queen. See you on July 3rd!
---
Copyright © 2020| Cobb County Community Services Board, All rights reserved.
Our mailing address is:
3830 South Cobb Dr. Smyrna, GA 30080
Copyright © 2020| Cobb County Community Services Board, All rights reserved.



Our mailing address is:
3830 South Cobb Dr. Smyrna, GA 30080


Share this post: